A corner nook is a great way to add another living space inside and outside your home. Nooks create a cozy spot in a room, without overwhelming a space. These can be great spacesavers in smaller homes and can be used as a quiet place for reading in a family room or  chatting and eating in a kitchen area. Over the years, Cushion Source.com has provided many customers with lovely nook cushions for their homes.  Here's just a sample of several very satisfied customers who chose to create and beautify their spaces by creating fresh and beautiful nooks.
Cushions and pillows give vintage kitchen nook a makeover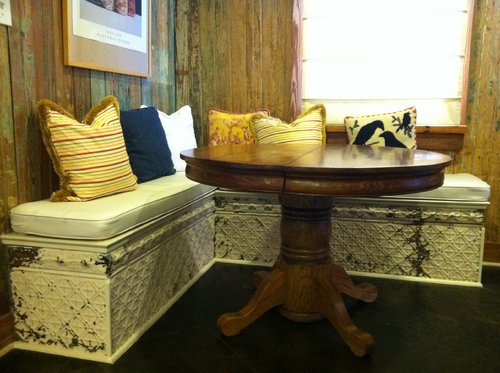 This New Orleans-styled kitchen nook was custom-made with tin ceiling panels. The customer wanted the cushions to be comfortable and durable, so it only made sense for her to choose Sunbrella fabric (Flagship Salt). This high-performance outdoor fabric is made of solution-dyed acrylic, which pours the color throughout the fiber rather than just the outside layer. This quality makes Sunbrella fade-resistant and stain-resistant. Even though a kitchen can be a playground for spills and stains, your cushions don't have to look like it.
These custom benches in a New Orleans breakfast nook, featuring vintage tin ceiling panels, are made comfortable and functional with cushions made of Sunbrella Flagship Salt fabric and cording.
Nook created in outdoor living area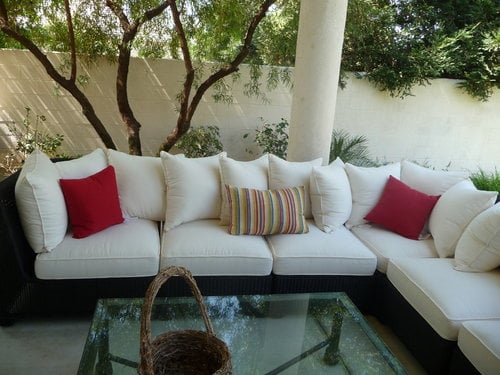 This outdoor setting wasn't difficult to dream up. Anybody would be at home in this comfy outdoor spot. If you don't have a natural corner nook in your space; create one! This sectional was the perfect solution to this open porch area. Without this cozy corner, the space would look cold and too open. With Cushion Source decorative pillows on this patio sectional, guests have a great place to sit and talk without lacking in comfort.
Nook cushions turn well-lit kitchen into perfect morning coffee spot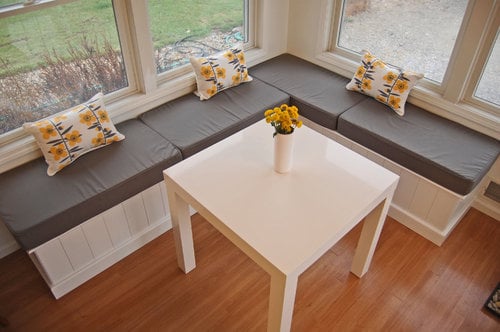 The amount of light flooding into this kitchen area is ideal for reading the morning paper or sipping a cup of coffee. This customer took an open corner and built these fantastic window seat benches. They topped off the benches with deliciously wonderful Sunbrella spectrum graphite gray bench cushions. So lovely and inviting!
These four cushions ordered to fit the customer's custom built banquette were made with Sunbrella Spectrum Graphite.
Cushions and pillows turn back deck into gathering spot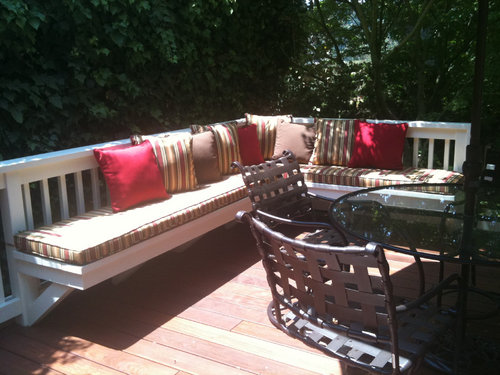 A back deck area has never been nicer. With custom cushions and pillows from Cushion Source, this built-in bench is a great way to add more seating for family and guests during those outdoor barbeques and holiday celebrations!
Big style in a small space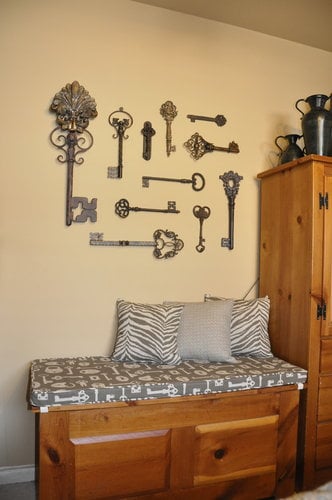 If you want to create a small nook on a budget, check out what this customer did with her husband's cedar chest! Add a cushion and some great pillow accessories, and voila! Love the vignette of different keys on the wall. Nice touch.
This Cushion Source customer raved about her custom cushion, saying, "I love the new seat cushion and pillows that now lay on top of the cedar chest my husband made years ago. So comfy!"
Want beautiful custom cushions for your indoor or outdoor space?
Check out Cushion Source.com today!