Congratulations, Sheryl W. of Wadsworth, Ohio! Sheryl is the winner of our July Picture Perfect Gift Card Giveaway customer photo contest!
Sheryl submitted a photo of a vintage glider passed down from her mother-in-law. She and her husband restored the glider by removing all the rust and giving it a good coat of metallic gray paint. To complete the look, Sheryl had cushions customized to fit the glider perfectly. She chose Sunbrella Stanton Greystone to accentuate the glider's metallic finish while adding a touch of color with Sunbrella Tuscan welting. To add extra comfort, Sheryl had Cushion Source create custom armrest cushions from our pillow headrests. By adding extra stitching every two inches on the pillow headrests, the newly created armrests were able to bend to fit the glider arms.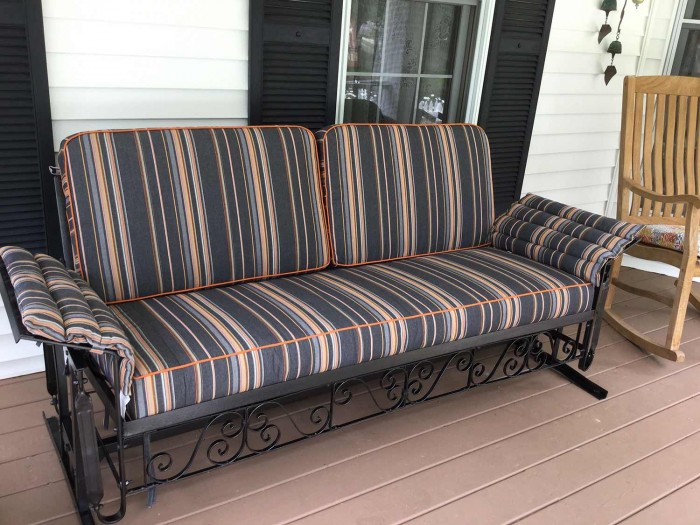 Sheryl states, "This glider was passed down to us from my husband's now deceased mother. We restored and sanded off the rust from the metal glider and spray painted a metallic gray and finished it with these beautiful cushions from Cushion Source. Previously the cushions were a canvas teal green that had rotted away over the years. Mama Flo would be so happy."
We appreciate Sheryl's ingenuity in creating new cushions for this vintage piece that is so dear to her family. We think Mama Flo would be happy, too!
Be sure to submit photos of your custom cushions, pillows, drapes, bedding, or fabric projects for a chance to win a $50 gift card to Cushion Source!