Producing quality custom cushions is what Cushion Source is all about, but in order to give you exactly what you want, there is some work involved on your end. Custom-shaped cushions that are different from the standard shapes we provide online are considered unique shapes and therefore require a template.

Many customers call in on a daily basis asking about how to create a custom template. We have written information and made a video on our Cushion Source website which steps you through the process. I thought I would make a storyboard of the steps involved to help further your understanding of what we require.
What is a template? Templates are defined as a shaped piece of cloth or paper cut to the shape of cushion you need.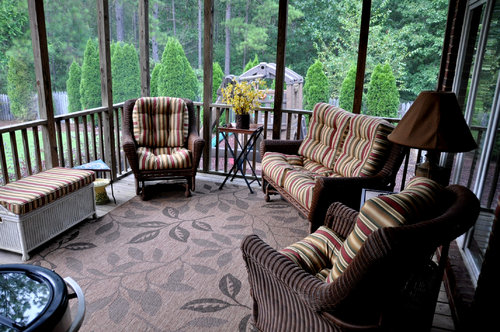 How to make a custom cushion template
Step # 1
Lay the paper or cloth on top of the area you want the cushion to sit. Trace the area where you want the cushion to go.
Step # 2
After you have traced the area, you'll need scissors to cut out the template.
Step # 3
Now you will check to see if the template fits your space. Simply lay it on the area to make sure it looks correct.
Step # 4
In order to make your custom cushion templates, we need all the following information to be written on the template. This is a vital part of giving you the best quality product you deserve.
1. Write your name
2. Invoice Number
3. Tell us where you would like the ties or breaks to be
4. Type of fabric chosen
5. Tell us where you want your hidden zipper
6. Let us know what type of edging you would like (single cording, double cording or no cording)
7. Let us also know the thickness of your cushions.
**NOTE
If you want a cushion for the seat and back seat of your chair, remember to subtract the thickness of your bottom seat cushion from the height of your back cushion.
For example: If your bottom seat cushion is 3 inches, you'll need to take off 3 inches from the back seat cushion.
Step #5
Mail the template to the following address:
Cushion Source

Attn: Template Order

946 Plantation Way

Montgomery, AL 36117
Thank you for stopping by our blog.  Please contact us at 1-800-510-8325 with any further questions.
We love building custom cushions to make you smile 🙂
Design Your Unique-Shaped Custom Cushions Now!