Stacks and stacks of pretty new cotton linens have arrived at Cushion Source this spring. Just as the seasons change and warmer weather beckons us to enjoy the new blooms, so does our ever-growing fabric gallery. We are proud to now offer more than 1,400 fabrics online for your cushions, pillows, draperies, and any DIY projects that you may have up your sleeve. We are excited to add more soft linen and cotton-based fabrics to our repertoire since these lightweight materials seem to be the ideal look for tabletops.
It was a beautiful spring day in our quaint little spot of the earth, so we decided to take some photos of our latest fabric additions. Southern Homes and Gardens turned out to be the perfect area to shoot. Below is Highland Taylor Laurel Dove Scarlet fabric, which is a 55% linen and 45% cotton blend that is lightweight and oh so feminine. It's an intricate floral kaleidoscope print with muted colors of milk chocolate, cranberry, and pastel blue on a tan canvas background. Highland Taylor Laurel Dove comes in four lovely colorways (Gray, Indigo, Soleil, and Scarlet). This pattern will bring a delicate and detailed design to your tablescapes.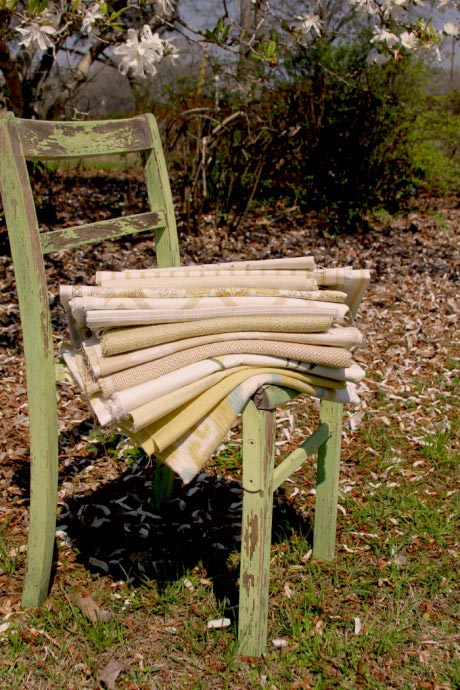 Highland Taylor Pacific Redbud (pink solid) and Pacific Soleil (yellow solid) serve well as dinner napkins. Pacific comes in an array of stunning colors that will please anyone's taste. From soft beige neutrals to bright and rich hues, these are this season's must-have item for your tables.We are always exploring new products and fabrications. As you know, classic linen blends make great tabletop materials. They are soft and delicate and are perfect for indoor and outdoor dinner parties, special holidays, and family gatherings.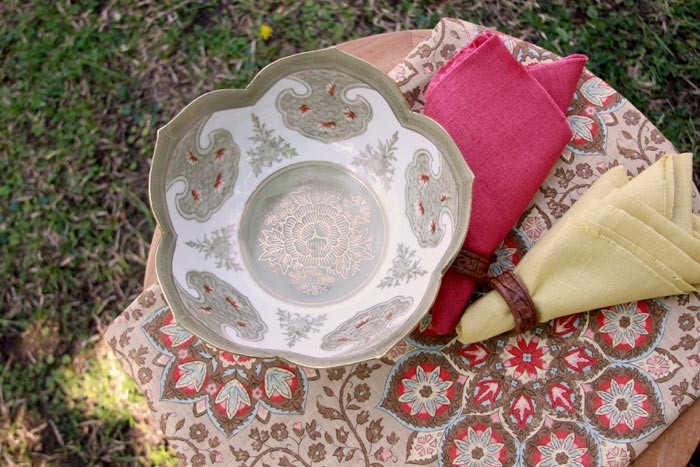 There are even more fun fabrics on the way! Stay tuned to see what's next! As for us, we will be picnicking in the area and enjoying the much-needed sun. 🙂