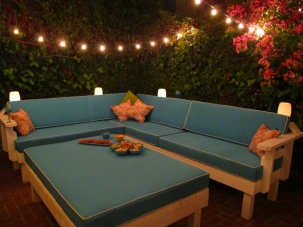 What is your perfect idea of a room? Hold that image in your mind and imagine what that room would look like if you removed all the cushions and pillows. Doesn't the room feel empty and boring? It basically screams, "Accessorize me, please!" Cushions are often taken for granted. Their ability to add glam to a room goes unnoticed until you imagine what your furniture would be like without them.
Cushions are the answer when you want to add interest and style to your indoor and outdoor space. They are an affordable accessory that works wonders on every type of furniture. Cushions are so functional; they even serve as furniture themselves. The accessories you use in your space can make or break a room. Make your room unique by designing your very own custom cushions to coordinate and accentuate perfectly.
Cushion Source offers you every type of cushion imaginable. Custom bench cushions, window seat cushions, ottoman cushions, chair cushions, outdoor cushions, pet cushions, steamer cushions, replacement cushions, you name it and Cushion Source has it. If you still don't find what you like, Cushion Source will customize a cushion just for you. Cushion Source is centered on exceeding our customers' satisfaction and will go above and beyond to make your cushions beautiful.
Almost every area of your home can be accentuated using cushions. With so many styles, colors, textures and patterns to choose from, it is easy to make any room in your home unique. Your home should be comfortable, especially in your dining, living and outdoor areas.
The dining area is where you spend the majority of your time. It is where you sit down with your family for dinner to catch up on the day's events, where your family gathers around on holidays, where your friends go for special occasions or social gatherings. The kitchen is a place where memories are made. Adding cushions to this setting not only adds style, it adds comfort. You want your family and friends to sit and relax with you, not be in a rush to leave because they are tired of the wooden chair.
The same relaxation and comfy feelings goes for the living area. Sometimes a sofa and a chair or love seat is just not enough space for everyone to sit. What is the next alternative when this problem arises? The wooden kitchen chairs or the floor are your next options, which are not so comfortable. Cushion Source makes cushions for benches, chairs, window seats and rockers that provide additional seating, comfort and sparkle to the areas of your home that have the most traffic. You can choose a fabric that coordinates with the theme of your room, so not only is it practical for use, it looks great too!
In spring, summer and fall, why not move the family and social gatherings outdoors. Cushion Source's outdoor cushions go above and beyond our customers' expectations. Cushion Source offers premium outdoor patio cushions made with high-quality Sunbrella fabric. Even better, Cushion Source offers a warranty against fading and the fabric is easy to care for. Sunbrella fabric is an ideal choice for your outdoor cushions. Cushion Source has hundreds of fabrics and textures to choose from to make your outdoor space come to life and catch the eye.
Every room in your home can be updated with the simplicity of new cushions. You will be surprised at how much a cushion can change a room. Cushions are simplicity at its best. Think simple, think beautiful, think cushions!