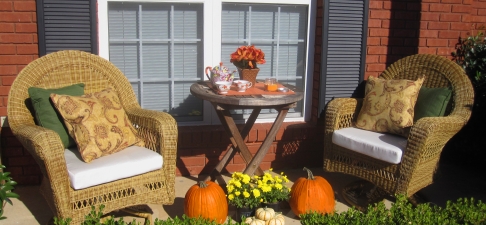 With autumn in full effect, now is the perfect time to add a personal touch to your outdoor space with a festive display for fall. Whether you have a large or small area to decorate, there are several options for creating a fun and welcoming decor scheme inspired by the season.
Simply updating your outdoor cushions and throw pillows can dramatically change the appearance and feel of your porch or outdoor space. For autumn, select fabrics with rich colors and bold, natural patterns. Draw inspiration from the shades found around you. Observe the deep reds, yellows, browns and greens found in nearby trees, plants and fallen leaves. Also, be sure to choose fabrics intended for outdoor use. Sunbrella, for example, is resistant to fading and water to ensure a long lifespan.
To add vibrancy to your display, select plants that thrive and bloom in fall weather. For many, mums are the perfect flower for autumn decorating. Due to their dark green leaves and various hues of blooms, ranging from yellow to purple, mums often coordinate perfectly with other fall decor and add a pop of color. To accessorize, you can plant your flowers in decorative pots that compliment your outdoor design. Another option is to wrap your plants in a fabric you love for a laid-back feel.
Pumpkins are a fall staple in almost all areas of decor. For your outdoor space, try to select pumpkins of various sizes and shades. This way, you can create a design along your steps, near your doorway or any other outside area. Instead of carving, use paint, fabric or other items to decorate your pumpkins so they last throughout the season. For a more eclectic look, use winter squash or Indian corn to accentuate your pumpkins.
To add a unique touch, there are tons of DIY crafting projects to try. For instance, you could create a wreath from items you found in nature, such as sticks, leaves and acorns. Another idea is to wrap yarn around a basic straw wreath and embellish with leaves, ribbons and other items. Of course, during the month of October, placing spider webs and other creepy items throughout your display adds a touch of scary for Halloween.
Whether you want your display to spook trick-or- treaters or simply provide a festive space for relaxing in the evenings, the possibilities for decorating are endless. Employ these tips, plus a few of your own ideas, for a fall display that highlights all the best parts of autumn: rich colors, beautiful foliage and a sense of warmth and joy only the upcoming holiday season can produce.