Karen Karabell ran into a lot of dead ends when searching for replacement outdoor furniture cushions for her Bed & Breafast in St. Louis, Mo. Though located in a bustling city of more than 300,000 people, the innkeeper found that her decor options were limited in her local market.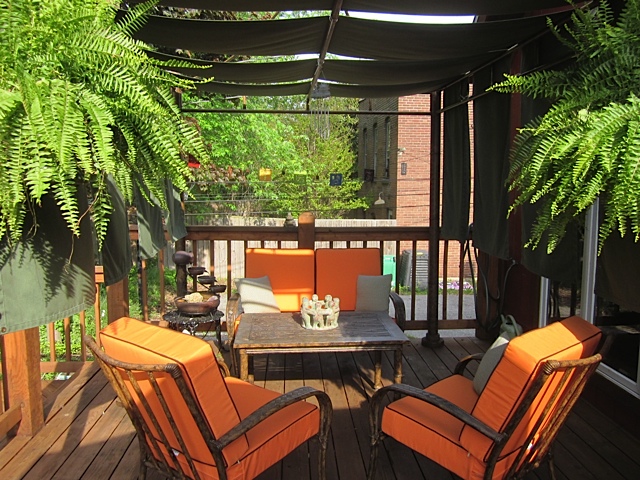 St. Louis inn creates relaxing atmosphere with custom chair cushions
Convinced there had to be better options available than to settle for bland, one-size-fits-all cushions from major retailers that import their products, Karabell searched online in hopes of solving her problem. Quickly she found Cushion Source, a leading online retailer and manufacturer of custom cushions of all types.
Tucked away in the heart of St. Louis, Elves Manor Guest House is designed to provide visitors the opportunity to relax and get away from the hurried pace of their daily lives. With this in mind, Karabell constantly strives to bring in decor that creates an ambiance of comfort and a welcoming touch, while also adding style to the overall design of the inn.
"The intent at Elves Manor is to provide sanctuary both indoors and outdoors," Karabell said. "The deck and its furnishings are a key part of this effort."
Natural palette colors from Sunbrella make beautiful outdoor furniture cushions
Karabell wanted a solid and simple color scheme for her deck. When designing her outdoor furniture cushions at Cushion Source, she chose Sunbrella Tangerine as the main fabric for her chair cushions, using Sunbrella Bay Brown for the cushions' double cording. The color combination expresses the "weekend getaway" feel, while also adding a pop of color from a natural palette. Choosing Sunbrella fabric guaranteed that Karabell's cushions would last through any weather for years to come.
"These cushions make the patio furniture so comfortable," Karabell said. "When the weather is nice, guests are comfortable sitting out on the deck for hours."
Comfort in the middle of the city
Now that she has updated her outdoor furniture cushions, Karabell is planning to enhance the gardens of the Elves Manor property. Located in the Central West End neighborhood, Elves Manor is a quaint home placed almost unexpectedly in the heart of St. Louis. Serving one guest or small group at a time, the former alley house's prime location is what sold Karabell on purchasing the property.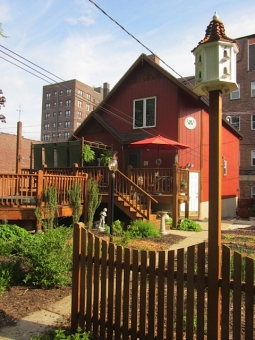 The two-bedroom inn sleeps up to six and occupies more than 1,200 square feet.
"The Central West End is in one of St. Louis's best walking neighborhoods," Karabell said. "The neighborhood also is the part of St. Louis that is most convenient to everything the city has to offer. The Central West End historically has been home to a number of hotels, but has been significantly under-served by Bed & Breakfasts. Elves Manor is the first Bed & Breakfast to open in the Central West End in years, and at present is the one of longest-standing," she said.
The urbane and cosmopolitan historic neighborhood of the Central West End is home to St. Louis University and the glorious Cathedral Basilica of Saint Louis. The neighborhood's popularity can be traced back to the 1904 World's Fair, which was held in adjacent Forest Park. Home to famous playwright Tennessee Williams and poet T.S. Eliot, the Central West End's history, notoriety, eclectic dining and shopping make it a unique destination for visitors to the area as well as local citizens.