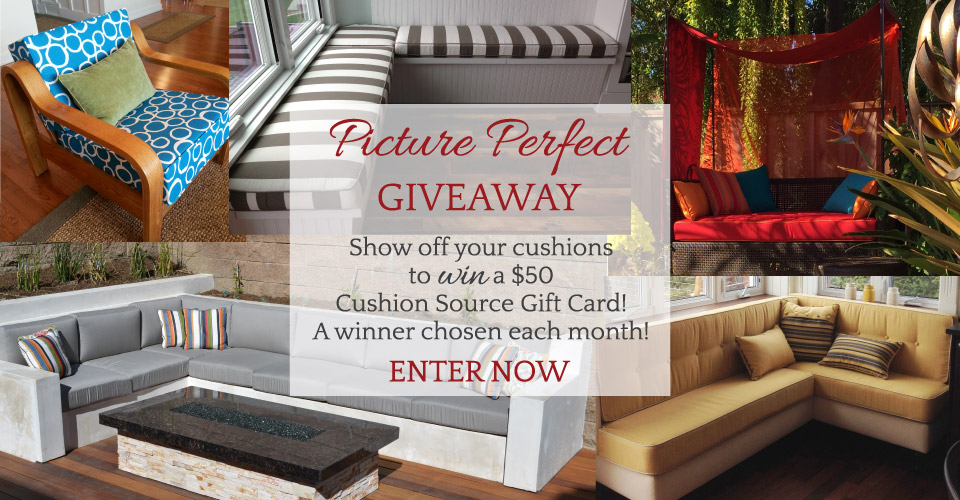 What to Enter:
Submit photographs of custom products purchased from CushionSource.com or CushionSource.ca.
Eligible products include any style of custom cushions, pillows, drapes, umbrellas, or other custom décor products, including but not limited to tablecloths, placemats, Christmas/holiday items, and more.
Photographs must feature a custom product that was purchased from Cushion Source.
Your Cushion Source product(s) must be easily and clearly visible in the photographs.
Any cushions, pillows, drapes or umbrellas, etc., pictured must have been purchased from Cushion Source.
Photographs may include multiple Cushion Source products.
The Cushion Source product(s) featured must be shown on your furniture or other applicable placement in your home, outdoor space, office, or other appropriate location.
Photographs may include pets, children, or adults at the entrant's discretion.
Entrants may submit multiple photographs as long as each photograph prominently features a unique Cushion Source product.
We do not accept photographs submitted through the mail. High-quality scans of non-digital photographs are acceptable.
Digital photographs should be taken at the highest resolution possible.
Use the online entry form on our website. At this time, a separate form will need to be completed for each photo submitted.
Photographs must be in a .jpeg, .jpg, .bmp, or .gif format.
Files submitted may not be larger than 5MB.
Photographs that are blurry, low-resolution, unclear, dark, or otherwise low quality will not be eligible.
Each photograph may only be submitted once. Duplicate entries will not be accepted.
For examples of acceptable submissions, you may browse our Customer Photo Gallery.
How to Enter:
Submit photographs and requested information online.
Terms:
Cushion Source's Picture Perfect Gift Card Giveaway begins at 12:00 a.m. (CST) on the first day of each month and ends at 11:59 p.m. (CST) on the last day of each month, running continuously until closed by Cushion Source. By submitting an entry, each contestant agrees to the rules of the contest and states that they are 18 years of age or older.
Sponsor:
Online Commerce Group, LLC, referred to within as Sponsor, OCG, or Cushion Source.
Who May Enter:
Cushion Source customers 18 years of age or older. Open to residents of the United States and Canada. Individuals affiliated with Online Commerce Group, including employees, officers, and directors (including immediate family members and members of the same household, whether related or not) of Online Commerce Group, LLC, its affiliates, subsidiaries, distributors, dealers, retailers, sales representatives, vendors, advertising, and promotion agencies, and any and all other companies associated with this contest, are not eligible to participate. By entering the contest, entrants agree to accept and all terms of these Contest Rules. The Sponsor will determine each month's winner by its sole discretion.
Entry Deadline:
All entries must be received through the Cushion Source entry form by 11:59 pm CST on the final day of each month to be considered for that month's contest.
Waiver of Rights:
By entering the contest, entrants grant the Sponsor, including but not limited to Cushion Source and Online Commerce Group, a royalty-free, worldwide, perpetual, non-exclusive license to display, distribute, reproduce, and create derivative works of the entries. The Sponsor will not be required to pay any consideration or seek any additional approval in connection with such uses. The Sponsor claims these rights to any photo submitted, whether or not the photo wins the contest at any time. Customer names may be used in connection with any photos submitted.
Judging:
Judging of the monthly contest will be conducted by the Cushion Source Marketing Department. Winners will be chosen on the basis of beauty, design, and creativity of the custom products and photographs. Decisions will be final. Winning photographs will be showcased on Cushion Source the following month and beyond at the discretion of the Sponsor. One winner will be chosen for each monthly contest. The winner will be notified through the email address he or she provided when ordering products from Cushion Source or when entering the contest.
Restrictions:
The contest is void where restricted by law. The Sponsor reserves the right to cancel the contest or modify these rules at its discretion. Decisions of the Sponsor will be final.