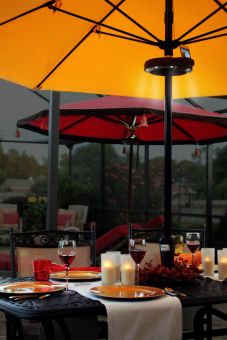 Choose from a variety of umbrella accessories for your umbrellas - new or old! Umbrella lights are a great umbrella addition that help shed a little light on your outdoor entertaining, and our umbrella covers are perfect for protecting your umbrellas from the elements while they are not in use.

Bask in the Healthy Evening Glow Year-Round with Radiant Umbrella Lights
Let your outdoor sunshade experience be smart, carefree and fun-filled, knowing we have you covered with durable, Skin Cancer Foundation recommended Sunbrella fabrics shown here on our exclusive Made in USA designer custom umbrellas. We also took the liberty of adding a welcome splash of evening light with our LED umbrella lights. From day into night, we have you covered.