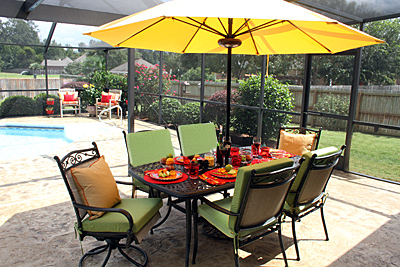 In recent years, as home remodeling has become more popular, patios and other outdoor settings have also grown in popularity. Patios no longer are simple places with a seat or two and maybe a grill. Some people have constructed entire rooms (like kitchens and dining rooms) in the outdoors. Cushion Source has been there, every step of the way, making patio cushions that help make these settings comfortable.
Patio Cushion Ideas
Our most common application is the patio table (as shown). Patio tables are a common piece of outdoor furniture that need custom cushions. Maybe you don't know who made your table or maybe the manufacturer has gone out of business. If you have a measuring tape and an eye for color, however, we can make you brand new patio cushions! But we don't stop there either. Did you know that we also make custom umbrellas? Not only can you have a cool new patio cushion set but you can have an umbrella that either matches or coordinates with your cushions. Or maybe you want it to have both matching and coordinating panels.
The best provider of Custom Patio Cushions
Need help? Call us at 800-510-8325 for assistance.
Our Most Popular Patio Cushions