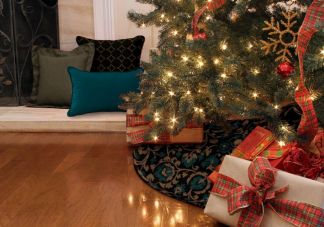 If the weather outside is frightful, why not feel delightful with these rich, jazzy blues and chocolate browns in the Hollywood Glam collection. Don't fear the stormy weather this Christmas, just sit back and relax while this collection reminds you why you've been so good all year long.
This collection includes:
A table runner in Robert Allen's McQuaid Caviar, 18" x 90", with straight ends
A set of four reversible placemats in Highland Taylor's Glazed Linen Silver Cave, with Glam Sheen Tourmaline on reverse, 14" x 20"
A pillow set including an 18" x 18" corded throw pillow in Robert Allen Circle Rings Mink; a 14" x 14" flange pillow in Highland Taylor's Glazed Linen Silver Cave; and a 12" x 20" lumbar pillow in Robert Allen's Glam Sheen Tourmaline
A Christmas tree skirt in Robert Allen McQuaid Caviar, 60" diameter
A pair of Christmas stockings in Glam Sheen Tourmaline, 8" x 22", with a cuff in Glazed Linen Silver Cave, 5"