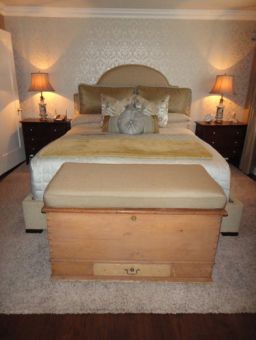 Attach one of our plush custom chest cushions to the top of almost any trunk or hope chest and turn it into extra seating for a bedroom or living room area. Now your favorite chest can become a comfortable resting spot for all to enjoy. We use only the best materials in our cushions to ensure your satisfaction.
Trunks come in all sorts of varieties and are used for many reasons. Whether you have a cedar chest used to hold precious memories, a toy box for your child's toys or a simple trunk used to stow away miscellaneous items from around the house, adding a custom cushion to your chest gives you a multi-functional piece of furniture that allows for more space in your home and less visible clutter.
No chest is complete without a custom cushion from Cushion Source. We offer hundreds of indoor/outdoor fabric options. Our outdoor fabrics come with a 5 year warranty against fading, staining and normal wear and tear.