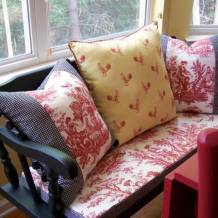 French country design has a unique way of combining elements found in nature, such as wood textures, flowery settings, and colors found on an untouched countryside. Many features contribute to the French country style of decorating, but it always looks effortless and welcoming. The look works well in, both, country homes and elegant, old chateaus. French Country will fit beautifully into your home. If you utilize proper color, textiles and accessories, you can easily achieve this look. To get you started, here are some simple tips.
Color – Again, draw your inspiration from nature; sunny yellows and golds, fiery reds and corals, grassy greens, deep blues and calm ocean tones. If you stay within this color family, you cannot go wrong. You can also incorporate black and grays to help give detail to accessory pieces.
Natural Materials – The Old World elements come into play with French country design in the integration of natural materials, such as rough painted plaster walls, chunky beams, ornate wooden chairs with tailored upholstery, lighting fixtures with character and natural stone floors. Of course, you may not have all of these elements, but you can utilize a few of these elements and create a more modern French Country inspired look.
Fabrics – The beautiful colors of the French countryside greatly influence the fabrics used in French country design. These traditional fabrics combine well with basic plaids, checks and stripes in modern homes. Provencal prints combine shades of primary colors with greens, lavenders and bright orange.
Toile ῜ Toile is a traditional design for French country fabrics, usually printed on linen or cotton. A white, cream, or yellow background has large motifs in a single contrasting color, such as black, blue, red, green and yellow. Toile themes include farm animals and Chinese patterns, bucolic country scenes and one of the most popular, courting scenes of the 18th century.
Accents– Traditional French country products use motifs with grapes, lavender fields, sunflowers and roosters. Huge woven baskets, bold colorful ceramics and tiles, carved wooden pieces and pottery are the perfect accessories for a French country room.