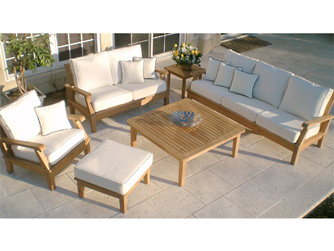 Deep seating as a phrase simply refers to a style of furniture. Think of a lounge chair, loveseat or sofa that can only be comfortably sat on with cushions. The furniture is nothing more than a frame without a cushion. In many cases, the furniture may not have anything other than a simple support structure for holding a cushion. The part of the frame that holds the seat cushion is very low to the ground. If you sat in it without a cushion (assuming you could) you would be sitting close to the ground and be very uncomfortable.
For that reason, deep seating cushions are much thicker than normal seat cushions. These cushions are typically 5 inches to 8 inches thick. The set may or may not have a back cushion, but usually does. Deep seating furniture is designed for maximum comfort and the cushion accomplishes 80 percent or more of that goal. WHAT you stuff or fill the cushion with makes all the difference.
The approach is dictated by the frame design. If it is a more traditional frame we recommend using a bottom cushion that features soft rounded edges. Usually the back cushions are made like big throw pillows. Box shaped cushions are normally paired with contemporary furniture featuring straight lines.