As we kiss the warm glow of the summer sun goodbye, let's get some indoor inspiration from a city that is always sunny. Miami is a culture unique unto itself. Style is just another extension of the wild and vibrant personalities that live there. Neon colored buildings echo the tropical atmosphere that billows out of every corner like an eastern sea breeze.
Miami offers a rich retreat for celebrity and snowbird alike. Deeply steeped in Cuban culture the city often feels more like an island adventure than a US city. And while beachcomber weather gives way to crisp air, fall leaves, and indoor entertaining, there is nothing like one last hurrah to send summer once again to the backs of our closets.
Teal, pink, orange and yellow color combos were the inspiration that we took away from Miami. Like that of a fruit vendor the vibrant colors and warmth of this blend is something that we felt may keep winter woes  away for at least a little while longer. We don't think that a room has to be constrained to just a few elements to give it a sophisticated look. You can pair numerous colors in one space without it looking tacky – the important thing to remember here is to pair colors that are all from the same family, don't shy away from these fun shades, as they can look extraordinary when paired the right way!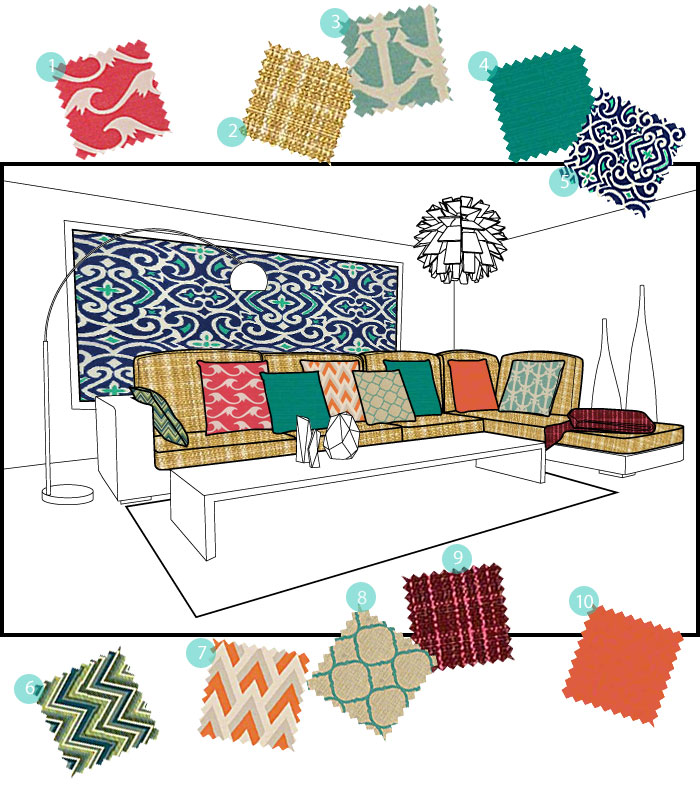 1. Alfresco Cresting Berry, 2. Sunbrella Surge Maiz, 3. Alfresco Drop Anchors Baltic, 4. Sunbrella Teal, 5. Robert Allen New Damask Marine, 6. Sunbrella Fischer Lagoon, 7. Zapp-Mandarin Orange/Natural, 8. Sunbrella Accord Jade, 9. Sunbrella Surge Sangria, 10. Sunbrella Echo Sangria