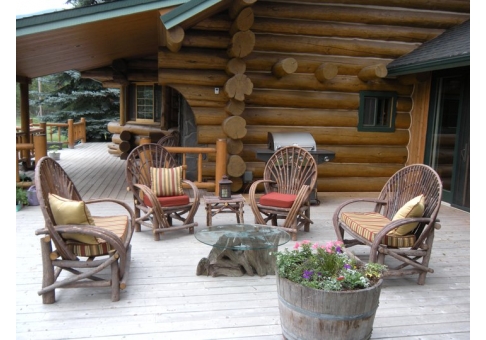 Montana is the fourth largest state in the United States. It's so large in fact; it has two nicknames, "The Treasure State" and "Big Sky Country." Interestingly enough, Montana's population is quite the opposite of "Big." Its population is scarce compared to the rest of the country. However, it holds a rich history and stunning natural beauty which has stood through the test of time. Montana is home to two major National Parks: Glacier and the famous, Yellowstone. Remember the famous Lewis and Clark explorers? Their expedition crossed Montana twice, in 1805 and then again in 1806.
Montana also holds some history for Betty and Mike. They purchased a lovely hand-crafted log home on 14 acres of land in the beautiful northwestern corner in 1993. Until they retired; they could only enjoy their vacation home during the holidays. In early 2005, they sold their house in San Fernando, California and moved permanently to what she describes as "our dream home." Betty recalls, "Since our move here we have been modifying our home to accommodate our lifestyle. While I was searching for outdoor furniture to complement the rustic setting, I discovered Cushion Source from a television advertisement."
When Betty finally found outdoor furniture that met her criteria, she remembered Cushion Source and began searching for the appropriate fabrics for her outdoor space. She said, "I was amazed by the selection of fabrics and styles available. I was impressed by the quality of the fabrics, workmanship and promptness of delivery. Although I attempted to bring the cushions indoors during rainstorms, they now remain outside during the summer and fall. The outdoor cushions still look as beautiful now as when I first received them."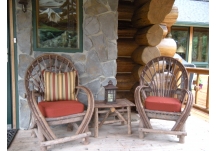 Strong and durable indoor/outdoor cushions are what Cushion Source prides itself in manufacturing, and we only use the highest quality fabrics available. Our Sunbrella and Outdura fabrics are made to withstand harsh elements; such as long exposure to the sun and heavy rain.
Betty chose these beautiful custom-made outdoor seat cushions and throw pillows, made with Sunbrella Henna and Sunbrella Weston Ginger outdoor fabrics. These were the perfect choice to go with her unique wooden furniture. The rustic colors go well with the rustic look of the chairs and log home. The sofa chair outdoor cushions are beautifully made. Betty added the color coordinating Sunbrella Henna for cording, which really gives a tailored and complete look.
That's what's so special about Cushion Source. It allows you to create a custom tailored look that's personal to you. From fabric, fringe and sizing, you're in control. Betty continues, "We are very pleased with the overall look and feel of our new extended living area. Thank you for providing such a quality product." Cushion Source serves another satisfied customer!