As a Navy wife, Peggy Cochran did more than her fair share of moving her family throughout her husband's career. After Fred's retirement as a commander, the couple settled outside of Yosemite National Park in California. They brought with them a set of wrought iron furniture inherited from her father-in-law. The old-fashioned quality of this patio furniture called for superior outdoor chair cushions that couldn't be found at any local retail store.
Upgrading inherited furniture with outdoor chair cushions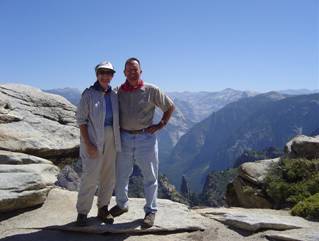 When Cochran saw a television commercial for Cushion Source, she was intrigued, although she did have a few reservations about ordering her custom products online.
"First, I studied the Cushion Source website and its numerous fabric selections," she said. "I had to let go of my concerns about ordering from a source I was not familiar with, but I am thrilled I did. The cushions are exactly what we wanted."
So many fabrics! Which one to choose?
With hundreds of high-quality outdoor fabrics in Cushion Source's collection, Cochran was unsure which one would fit her home best.
"I had a tough time deciding on the perfect fabric, so I ordered a few samples, which arrived in a few days," she said. "After picking the right fabric, I measured the seats, plugged those dimensions into the custom cushion tool, chose the fabric and options, and submitted the order."

Ultimately, Cochran chose a fabric called Reflections, a great match for her grey antique wrought iron chairs. Her cushions deliver a more subtle, monochromatic look and complement the stone floor.
Despite taking time to decide on her favorite fabric, Cochran was pleasantly surprised at the quick turnaround at Cushion Source.
"The entire process, from the time I saw the television commercial until the finished cushions arrived, took less than two months," she said.
Enjoying the beauty of nature from their backyard
Located close to Yosemite National Park, the Cochrans' home sits on a bluff overlooking gorgeous views and wonderful sunsets.
"We are enjoying this part of our life and wanted to move close to the Sierra Nevada Mountains because we love to hike and backpack," Cochran said. "Our evenings here are usually peaceful and calm. We love sitting on our new custom cushions as we watch the California sun set in the distance and look at our piece of paradise."


Along with the wrought iron furniture now beautifully adorned with outdoor chair cushions, several other inherited furnishings with sentimental value dot the Cochrans' home.
"These chairs belonged to my husband's father, and for many years were situated on a beautiful lanai in Honolulu, HI," she said. "We eventually inherited many pieces of furniture from 'Grampa Frank' and the wrought iron was part of the batch."
With plenty of extra time to spend with the grandkids, the Cochrans will enjoy making even more memories with their new outdoor chair cushions and classic wrought iron furniture in a gorgeous setting.
Back for more!
Cochran plans on returning to Cushion Source to update the rest of her outdoor furniture, and maybe some indoor pieces, too.
"The quality of these custom cushions is incredible," she said. "I plan to use you again and recommend you to friends. I hope you never go out of business!"
Don't worry, Peggy. Cushion Source will always be here to serve your custom decor needs.